Coltimus Prime takes Prince of Wales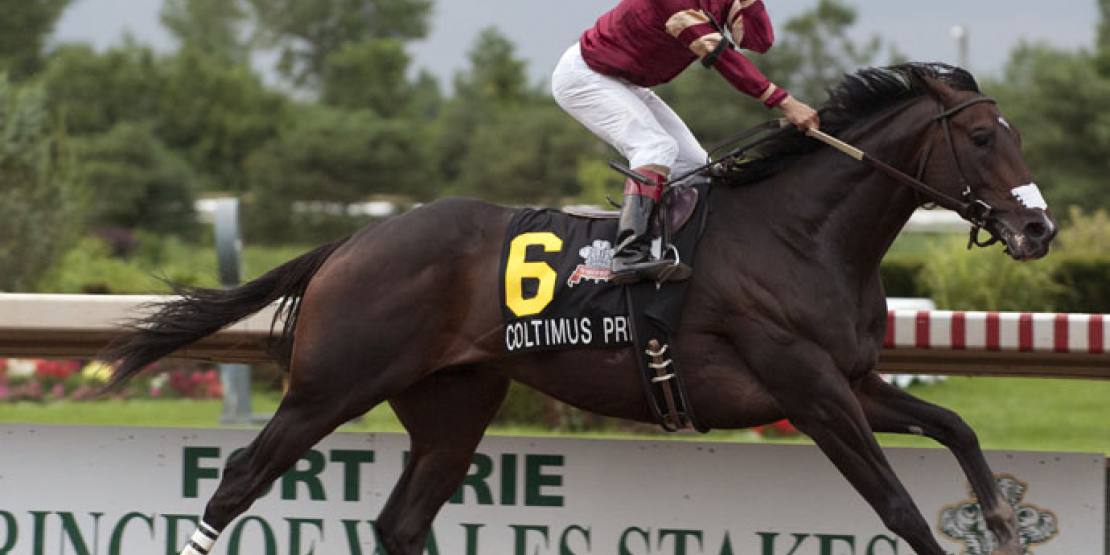 Photo courtesy Michael Burns Photography
Coltimus Prime seized early control and never looked back to take Tuesday's 79th edition of the Prince of Wales, second jewel of Canada's Triple Crown of Thoroughbred Racing, at Fort Erie.
Eurico Rosa da Silva rode the dark bay son of Milwaukee Brew to the 3 1/2-length victory over Lynx for trainer Justin Nixon and owner Cabernet Racing Stables. Ami's Holiday, the 8-5 favourite, was third.
The running time for 1 3/16 miles was 1:54.58.
Da Silva, who collected his first Prince of Wales victory, was given a vote of confidence by Nixon, who felt Coltimus Prime was simply the horse to beat. "Justin told me 'It's your horse, do whatever you want.' He was very confident in the horse.
"So I looked at the (Daily Racing) Form and my horse was the speed in the race. I thought I'm just going to take over. He broke sharp, went to the lead and never looked behind. When we came home, I thought no horse is going to pass this horse. He just kicked in from the quarter pole home. He ran very well."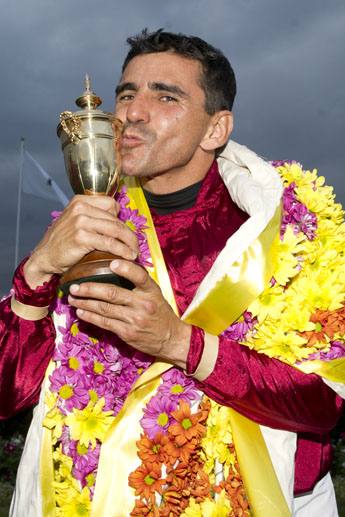 Photo courtesy Michael Burns Photography
Da Silva praised Nixon as well. "The horse was very focused. He was ready. He did everything right. Justin brought the horse here and he was great. The horse knew what he was doing."
Coltimus Prime went into the Prince of Wales with two wins from eight starts, but finished a disappointing ninth to Lexie Lou in the Queen's Plate, the first gem in the three-race series, at Woodbine. Lexie Lou did not compete at Fort Erie.
Nixon, who started his training career at Fort Erie, said the win meant plenty to him. "I was screaming (down the stretch). We've won a lot of races here. This is awfully special. It means a lot. It's a dream come true. I've watched a lot of good horses (at Fort Erie). I learned the game here when I first started my career. It's something special to win its biggest race."
Coltimus Prime, who sports a loyal following on Twitter @ColtimusPrime, put in his final breeze for the Prince of Wales last week at Fort Erie between races with Francine Villeneuve in the irons.
"We did everything we could to put this horse in the best possible position to win," said Nixon. "We brought him down a week early. He trained dynamite over the strip. He's eaten well. He's done everything the way you want a horse to go into a race."
The Ontario-bred was a well-regarded two-year-old, having impressively won his second lifetime start and finishing second to Jose Sea View in the Display Stakes last December. A valiant bid for a spot in the Kentucky Derby was halted after a ninth-place finish in the Tampa Bay Derby and fifth-place run in the Grade 1 Blue Grass Stakes in the winter.
Frankie Pennington, who rode Lynx, felt his gelding was second best. "I had a good trip. He handled the course great. We were sitting in a great spot and he ran a big race. He was just second best. The winner was sitting easy. I thought I had him going around the turn, but when he opened up, he took off."
The Prince of Wales completed a career Triple Crown for da Silva, who has two Queen's Plate wins (Big Red Mike, 2010; Eye of the Leopard, 2009) and a Breeders' score (Up with the Birds, 2013).
Ami's Holiday, beaten over four lengths, had early trouble but ran well, according to jockey Luis Contreras. "My trip was fine after the first three-sixteenths (of a mile). Three or four horses outside of me tried to get to the rail but I let my horse run. After that I had a perfect trip. My horse was running really well at the end, he just ran out of room."
The win, worth $300,000, raised Coltimus Prime's career earnings mark to $421,300.
The Breeders' Stakes, the third and turf leg of the Triple Crown, is set for August 17 at Woodbine.
Coltimus Prime paid $12.80, $6.50, $3.90 and combined with Lynx ($6, $3.80) for a $75 exactor. Ami's Holiday ($2.70 to show) rounded out the $220.70 triactor.