Final Twilight Tuesday Produces Big Results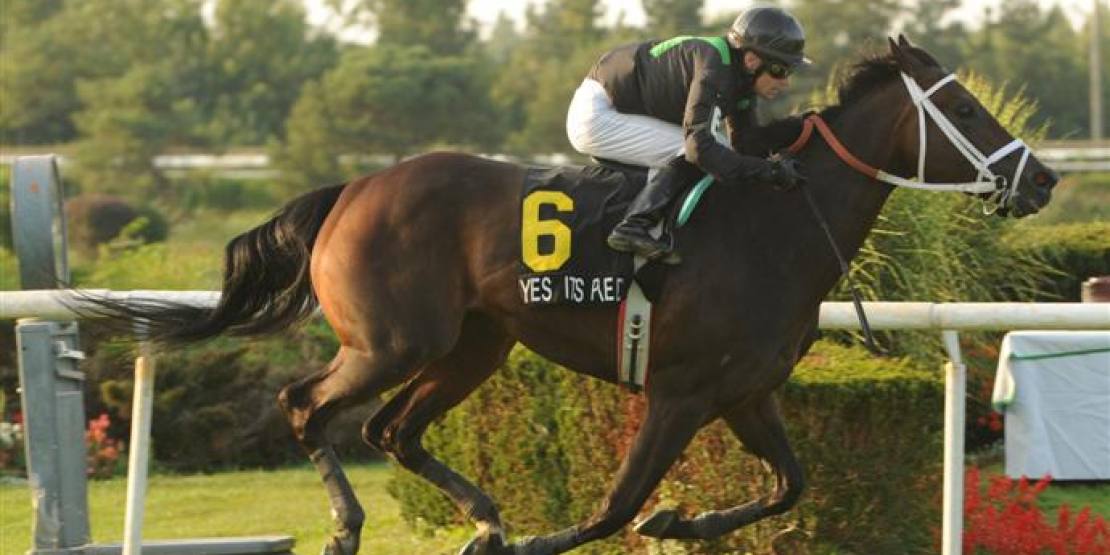 The final Twilight Tuesday took place at Fort Erie Race Track under grey skies but the hazy weather didn't dampen the spirits of the substantial crowd who gathered for a great card of racing followed by a free concert by Horns from Hell.
Three $30,000 Cup races were offered up for local horses, the Andy Passero Memorial, the Bob Summers Memorial and the Molson Cup. As a result of heavy rain on Monday the Molson Cup was moved from the turf to the dirt for the safety of horses and riders.
This year marked the 4th running of Andy Passero Memorial which honors a great community leader whose life was cut short as a result of a tragic car accident.
Conditioner Richard Davis sent out the overwhelming favourite, Mountain Echo, who was in search of her 14th career. "She's such a special racehorse to me," said an emotional Davis after her romping win at 6½ furlongs.
There really was no doubt about it once the gates swung open that Mountain Echo was the dominating winner. Under a nice rider by young jockey Mallory Strandberg the mare pulled away to win by 7 lengths. With this victory, Mountain Echo now has earnings of over $300,000 and her co-owner Richard Davis has some major decisions to make regarding her future. "I've had quite a few phone calls from people who are interested in buying her as a broodmare; I wanted to see how she raced today first."
Mountain Echo returned $3.10 to win. Silver Shasa was second and Flashy Zee finished third.
The Bob Summers Memorial was carded as race 7 on the evening program. With a large field of 12 runners the race was very difficult to handicap. The public's choice was the classy 8 year old gelding named Hey Now. The winner of over $360,000 led the way in the 6 ½ furlong sprint but just inside the final sixteenth of a mile, long shot D'oro Diablo under a full head of steam by jockey Kirk Johnson got up to just in time. This was the gelding's first win at Fort Erie after 2 previous attempts.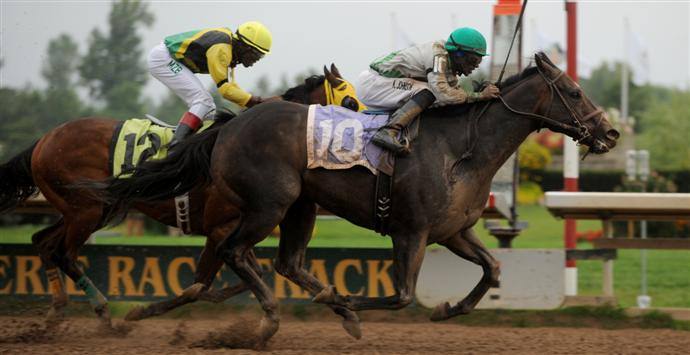 D'oro Diablo under Kirk Johnson. Photo courtesy Michael Burns Photography
"This horse is better on the turf and a very good sprinter but he handled the dirt today," said trainer John Simms. "I plan on taking him to Tampa with me this winter."
Simms recently took over the training of D'oro Diablo for his longtime client Tony Gaito.
D'oro Diablo returned $17.50 to win. Hey Now held on for second and Molinaro Warrior rounded out the top three.
The final Cup race of the night was run just as darkness was setting in at the Border Oval. The Molson Cup was moved from the turf to the dirt as a result of the heavy rain on Monday. Once again, it was trainer Richard Davis who sent out the favourite and once again they did not disappoint. Yes It's Red, a 4 year old filly was ridden by veteran jockey Daniel David for her owner James Schlehr. The switch in surfaces worked to the connections' advantage as their filly had never raced on the turf.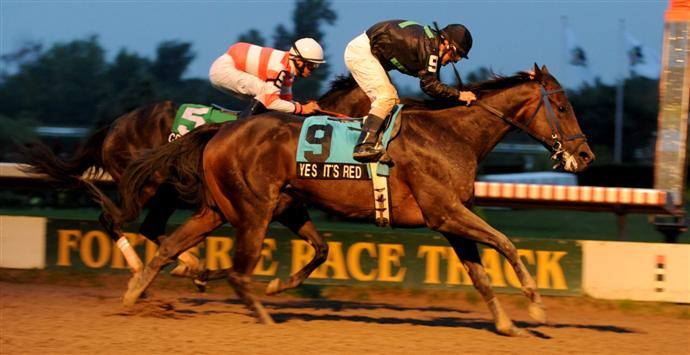 Yes It's Red under Daniel David. Photo courtesy Michael Burns Photography
"I got caught out in the rain yesterday, and I almost said a bad word but then I thought to myself, this rain might help take the race off the turf," quipped the jock.
For trainer Richard Davis the day couldn't have been any better. "This is like a dream come true."
Yes It's Red was able to get to the wire just in the nick of time under a picture perfect Dan David ride. She defeated a very game Crimson Spire who is trained by John Simms and the classy Name In Lights who shipped in from Woodbine to run.
Yes It's Red returned $3.60 to win.
For the months of September and October racing will continue on Sundays and Tuesdays with first race post time at 1:15.
Elissa Blowe
Media & Marketing Manager
1-800-295-3770 ext. 3204
e-mail: femedia@forterieracetrack.ca