Shannon "Sugar" Doyle Becomes the New Voice of Fort Erie Race Track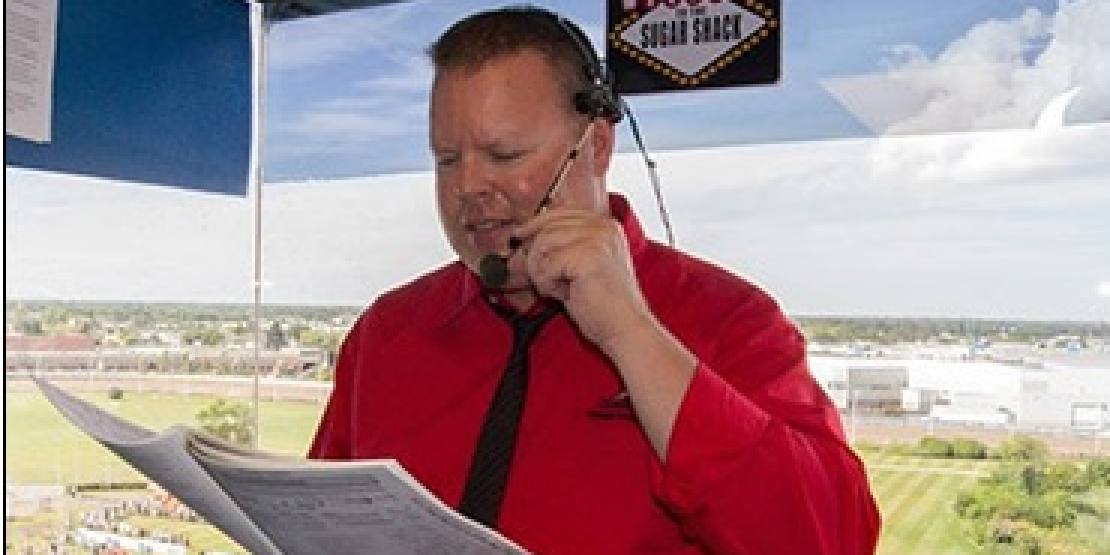 Shannon "Sugar" Doyle calling the races from Northlands Park in Edmonton. Photo by Mark Seon
Fort Erie, May 7th…With the 2015 season opener at Fort Erie Race Track just around the corner, the Management team is proud to welcome a new voice to the 118 year old Border Oval. Shannon "Sugar" Doyle will assume the role of track announcer on Tuesday, June 2nd.
Doyle, who is the regular caller at London's Western Fair, will take over from Mike Dimoff who called the races from 2011 until 2014.
A native of Summerside, Prince Edward Island, Shannon began his career calling Standardbred races in PEI and was quickly offered the position of announcer at Northlands Park in Edmonton in 2006. Shannon called both the Standardbreds and Thoroughbreds including several Canadian Derby's during his tenure in western Canada. In 2014 Doyle accepted the position of track announcer at Western Fair for Greg Blanchard who was promoted to the role of Racing Manager.
"We have been very happy with Shannon at Western Fair," said Greg Blanchard of his colleague. "His passion and enthusiasm for horseracing will quickly resonate with the Fort Erie fans."
In addition to his duties as the race track caller, Shannon will bring along his handicapping knowledge as part of the simulcast TV show with racing analyst Elissa Blowe. He will also host the popular Breakfast Clubs held every Sunday from August 2nd to September 6th.
"We are excited to have Shannon join the Fort Erie team," said Rick Cowan, COO of the FELRC. "His experience in both Thoroughbred and Standardbred racing in Canada make him a real asset to the Fort Erie organization."
Shannon will complete the live season at Western Fair on May 29th before heading to Fort Erie and will resume his position at Western Fair once the Fort Erie season concludes.
"I am really excited to get to Fort Erie and start calling Thoroughbreds again," said Doyle.
Live racing gets underway on Tuesday, June 2nd at 4:15pm.
For more information please contact;
Elissa Blowe
Media & Marketing Manager
1-800-295-3770 ext. 3204
e-mail: femedia@forterieracetrack.ca