Training Begins for the 2014 Racing Season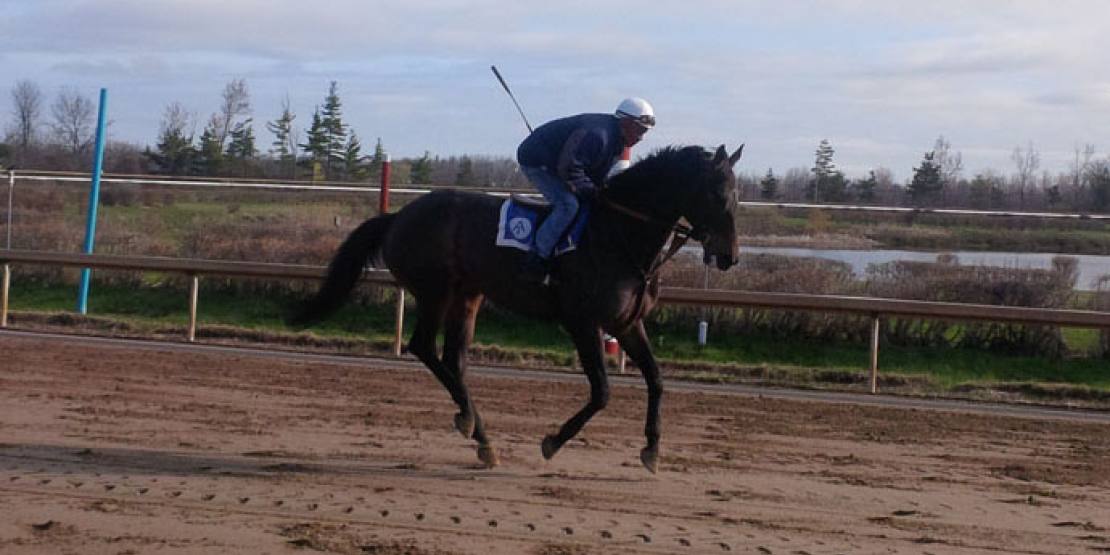 It was all systems go at Fort Erie Race Track on Sunday, April 27th as a healthy number of eager equine athletes began training at The Border Oval.
With opening day exactly one month away trainer Dan Wills plans to have up to 15 horses stabled at Fort Erie. Wills, who works alongside his wife Jeanie, gallops his own horses while Jeanie handles a bulk of the barn duties. "I am hoping for a good year and I plan to have horses ready to run on opening day," said the veteran trainer. Amongst their stable of runners is the classy Star Prospector, a 9 year old gelding with lifetime earnings of $450,000 from 14 career victories. "He loves being back at the track with all the action," explained Jeanie.
Jockey, Helen Vanek was busy exercising a number of horses on Sunday morning. Vanek, who was the leading rider at Fort Erie in 1998, praised the track maintenance staff for their job preparing the surface. "They've done a fantastic job. The track is even, consistent and in excellent shape."
Along with the usual hustle and bustle of horse people preparing their stables, racetrack staff are also busy setting the stage for the season ahead.
"All of our planning for the season is complete and we are excited about the prospects for an exciting season," said Rick Cowan, Chief Operating Officer for the FELRC.
Unlike previous years, live racing will kick off on Tuesday, May 27th with the return of the popular twilight 4:15 post time. Opening day will include a free "Alive and Kicking" baseball cap giveaway with the purchase of a Fort Erie program and will also feature the return of the entertaining Tiki Bar Summer Concert Series. Brass Monkey, made up of former band mates of Horns from Hell, will get the party started with a free concert after the races.
Fort Erie will host 37 race dates from May 27th until September 30th with racing taking place on Sundays at 2pm and Twilight Tuesdays running through to the end of August then switching to a 2pm post for the remainder of the meet.
The track's events schedule features the return of popular promotions such as the Farmer's Market, Breakfast Club, Circle the Course, and the 79th running of the Prince of Wales which will be held on Tuesday, July 29th.
Elissa Blowe
Media & Marketing Manager
1-800-295-3770 ext. 3204
e-mail: femedia@forterieracetrack.ca